Being a headshot photographer is a wonderful way to make your living as it never feels like real work – it's more like chatting to new people everyday and taking some cool photographs along the way. This is not to belittle what I or other headshot photographers – it's simply that I love my work.
Over the years I've built up a huge body of knowledge and experience that I'm love to share with my clients, hence my book The Headshot Bible. One of the questions I'm asked on a regular basis is 'how to be a film & TV extra?'
It's not difficult; like most things you just need to know the right way to do it and enjoy dressing up. Remember, in film & TV extra work, one week you could be in a Roman soldier's costume and the next week in a modern crime drama. You'll need to register with an agency as the work nearly always comes through them. Another question that's asked regularly is 'should I pay a fee to join an agency?' My experience tells me that most agencies charge an administration fee and many of the well-established agencies will deduct that from your first days pay – so no up front payment! A fee to join an agency is less common and in general you should be stay away from those agancies. If in douvt about an agency check them out on the internet.
A particular benefit of extra work – sometimes called, background, walk-on or supporting artistes – is that you can do it at any stage of life. Literally from cradle to grave! Students looking for part-time money, mid-life career changers and even retiree's looking for an interesting way to keep busy, there's a need for all types in the film & TV extra game. There are also full-time supporting artistes who have regular roles in TV soaps and sit-coms. One or two have made the transition from background to actors (usually those with formal actig training, but not always).
In terms of experience, this differs from agency to agency. Some require none at all while others prefer you to have some experience of the industry. That could be taking part in local am/dram performances, being in student or independent films. Others agencies may require more specialist skills – but more of that later.
You also need a couple of professional photographs at some stage though on application a couple of recent home snaps will usually do. The agency will want to see what you look like and what your body shape is at the moment. They may want measurements too. It's important at this stage that you are truthful and honest. For the professional photos you'll need a good headshot and a full-length body shot.  Many agencies will offer to take your film & TV extra photographs but you can always choose to go to a professional headshot photographer of your own choice as long as they fit the requirements of the agency.
Don't send in photographs that are years out of date, likewise don't lie about your measurements; there is plenty of work for everyone.
In the UK the standard day rate of pay is £89.52 as of early 2019. There are three main agreements used in and around the London area: The FAA/PACT Agreement, The BBC Equity Agreement and ITV Equity Agreement.
Specialist skills and uniforms, if you are interested in trying to earn better daily fees then this could be the route for you. There are lots and lots of Police, Fire, Army and healthcare programs constantly being made. If you own a genuine uniform and it fits you properly you could be booked for a specialist role. You'll get more pay too.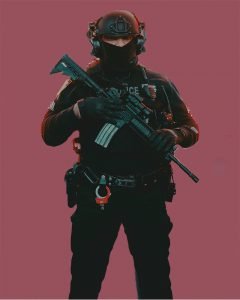 If you own a full police SWAT uniform with weapons, gas masks and all the associated kit then you'll earn even more for your daily rate. If this is your way forward then you will be expected to have some specialist knowledge and skills. There are groups and companies out there who offer workshops and training for these specialist roles.
There are some supporting artistes who only work in these expert fields.
As a general rule the days are long often starting at 6am and sometimes going through till late in the day. Obviously you'll be fed but only after the talent and the crew have eaten – don't worry there'll be plenty to go around and the food is incredibly good on location. There's usually a good camaraderie among the extras with lots of stories and anecdotes being bandied about.
It's always worth taking a good book to help fill the time or in more recent years an ipad or similar to help pass the time as you never quite know when you'll hear the words 'ACTION'.
If you need more in-depth information on the world of the background artiste try going to some of the sites below. This article is aimed at the UK market but I assume the film & TV extra industry works pretty much the same the world over.
Occasionally you may be asked to feature more prominently or even speak a few words obviously, this bumps up your daily rate as you receive a special fee.
The world of film & TV extras is a fun, interesting and often exciting industry to be involved in, if you have some spare time and like the film industry then the film & TV extra game could be for you.
https://www.bectu.org.uk/get-involved/background-artistes
https://www.rayknight.co.uk/artisteinfo
https://www.castingcollective.co.uk/